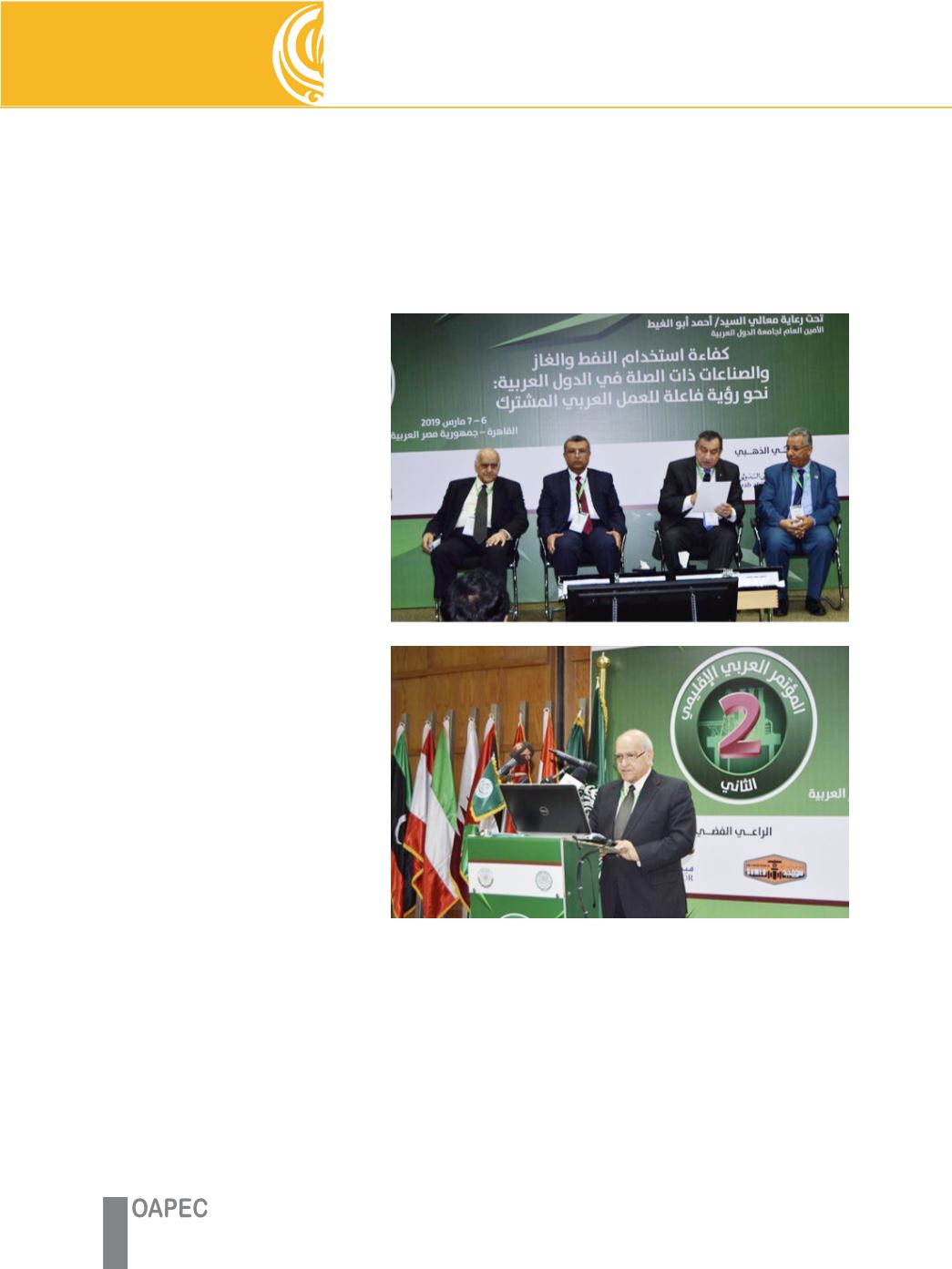 OAPEC Activities
12
Volume
45
Issue
3
OAPEC Secretary General HE
Abbas Al Naqi took part in the
Conference on the "Efficiency of Oil
& Gas & Relevant Industries in the
Arab Countries: towards an active
vision on joint Arab action," held
in Cairo, Egypt, on 6-7 March 2019
under the auspices of His Excellency
the Arab League Secretary General,
in the presence of a large number
of officials from Arab countries
and organizations. The conference
was co-organized by The Arab
Administrative
Development
Organization (ARADO) and Arab
Industrial Development and Mining
Organization and the League of Arab
States (LAS).
The event aimed at exchanging
Arab expertise in oil, gas, and
relevant
industries,
especially
petrochemicals and fertilizers, as
well as, discussing mechanisms
for executing more bilateral and
regional Arab action projects through
reviewing successful examples of
cooperation between Arab countries
and benefitting from them by studying their
positive sides to boost them and negative sides
to reduce them.
Key topics discussed in the conference
included:
• Joint Arab action in oil, gas, and relevant
industries vs international economic
challenges (future vision)
• Future projects and opportunities
• Success stories of bilateral and regional
joint Arab action projects
• Prospects of future knowhow-based
industries in the Arab region
HE Al Naqi took part as a keynote speaker in
the opening session and presented a paper on
"the Role of Arab Organisations in the Nations'
Economy" which tackled the role of OAPEC in
terms of join Arab action and boosting economic
growth in the member countries. This is in
addition to showcasing its endeavours in securing
energy resources needed by global economies to
support their economic growth.
CONFERENCE ON THE EFFICIENCY OF OIL & GAS & RELEVANT INDUSTRIES IN
THE ARAB COUNTRIES:
TOWARDS AN ACTIVE VISION ON JOINT ARAB ACTION