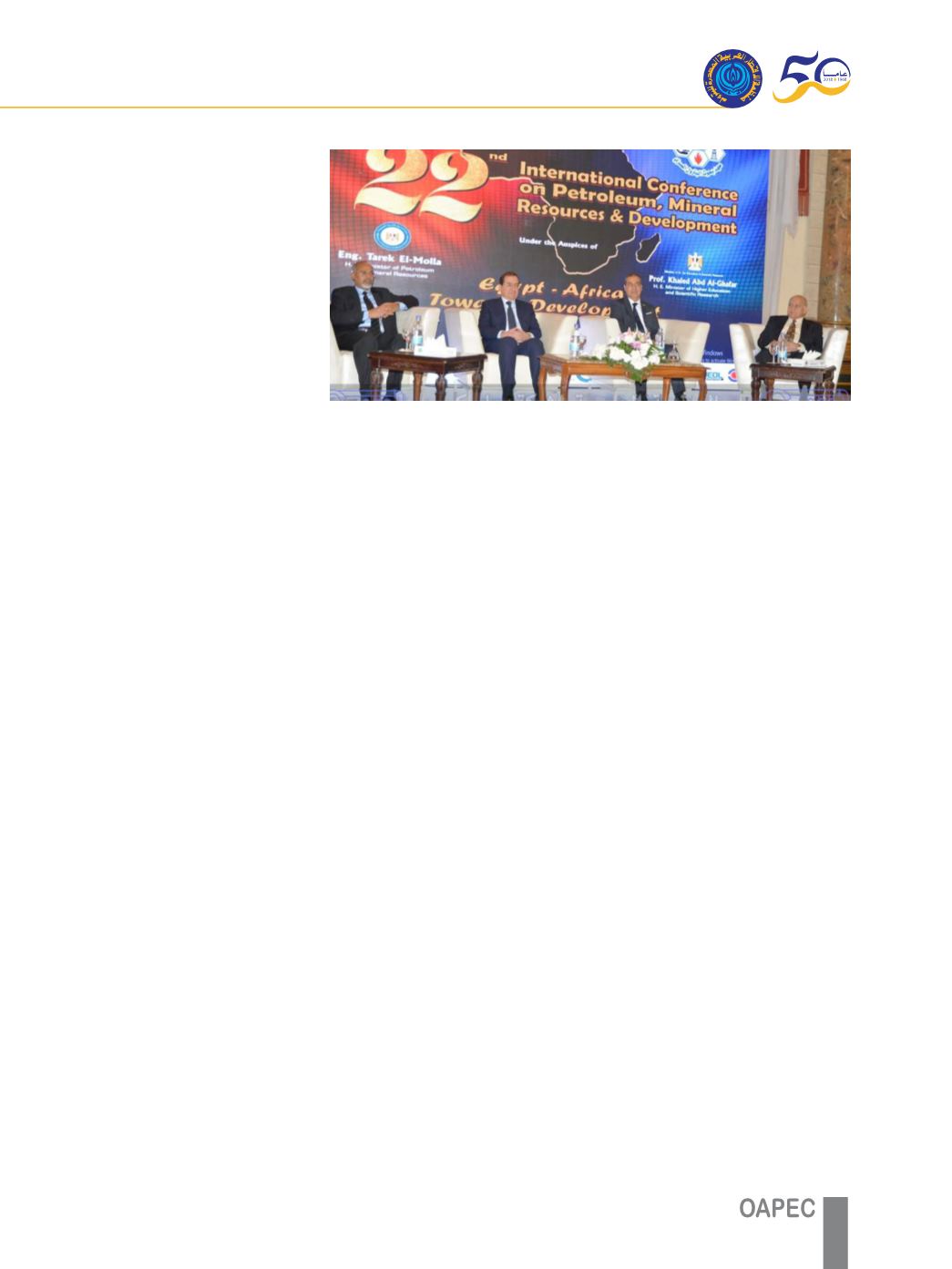 Volume
45
Issue
3
11
forum that gathers an elite
of scientists and expert
researchers in various
aspects to discuss the
most important global
scientific research studies.
He added that it provides
a platform for discussions
between experts and
officials, decision makers,
industry and production
businessmen to come
up with time- bound
recommendations followed up for execution by
a permanent conference secretariat that also
informs all relevant authorities in the country
in order to contribute to the development
process in Egypt.
He stressed that EPRI has a future vision in
line with Egypt's 2030 Vision on sustainable
development and the country's scientific
research strategy that relies on creativity,
knowledge, good-planning, and linking
scientific research to the petroleum industry's
needs.
He clarified that maximising the benefit
out of scientific research and patents via
transforming them into outcomes represent
the economic pillar of EPRI. This is in addition to
research departments, EPRI's specific-purpose
centres, and the projects that EPRI provides to
the petroleum, industrial, and civil sectors.
On his part, OAPEC Secretary General HE
Abbas Al Naqi gave a speech at the opening
session thanking the organisers for the
invitation. He pointed out that the conference
comes at a time when the global petroleum
industry is witnessing some kind of stability
as a result of a relative improvement in oil
prices recently. This has reflected on the future
projects' forecasts in the Arab countries and
the world in spite of some difficulties in global
markets and certain geographical spots. HE Al
Naqi pointed out that there have been different
levels of activities in the Arab petroleum
industry, adding that Arab countries enjoy a
prestigious status on the global energy map,
most importantly in terms of hydrocarbons
(oil and gas), supported by their large proven
reserves which they use to export to the world.
He then mentioned some global petroleum
indicators and the role of Arab countries in
them.
HE Al Naqi concluded by stressing that the
purpose of these vital projects in the Arab
countriesisnotonlytodiversifynationalincome,
maximise the benefits of available resources,
and create new job opportunities, but also to
achieve the sustainable development's social,
economic, and environmental aspects in line
with the growing global interest in achieving
the sustainable development 2030 goals,
especially goal number 7 ensuring everyone
gets modern, reliable, and sustainable energy
at affordable costs.
OAPEC Secretariat General has contributed
withapaperonthe"RoleofPartnershipbetween
National and Global Petroleum Companies in
Improving Downstream Industries in OAPEC
Member Countries" by Dr Samir Al Kareish,
Director of the Technical Department. The
paper tackled challenges facing downstream
industries (refining and petrochemicals)
that call for enormous cooperation between
national and global companies, for example
in terms of strict regulations on environment,
occupational safety, and working in a complex
and difficult workplace.